WE Locations
WORK EXPERIENCE AFFILIATED STUDIO LOCATIONS.
AFFILIATED STUDIOS + WORK EXPERIENCE
Work experience (observations and teaching) can be completed at Work Experience Affiliated Studios (WEAS) nation-wide, to complement your course design. Affiliated studios are selected via rigorous screening process and must perform against set criteria including but not limited to: quality of Studio facilities and equipment; staff qualifications; membership of the industry body, the PAA; have a demonstrated commitment to professional development, and be able to service the necessary supervision and documentation.
Our Affiliate Studios are home to highly experienced and respected Pilates educators, delivering the most current teacher training applications in some of the finest facilities in the country.
Through our affiliates you will access valuable ongoing mentoring and build strong, lasting relationships within the industry that will set you up for career success. For more information on coordinating work experience at affiliated studios, consult your training outline as per your state.

download the weas student brochure here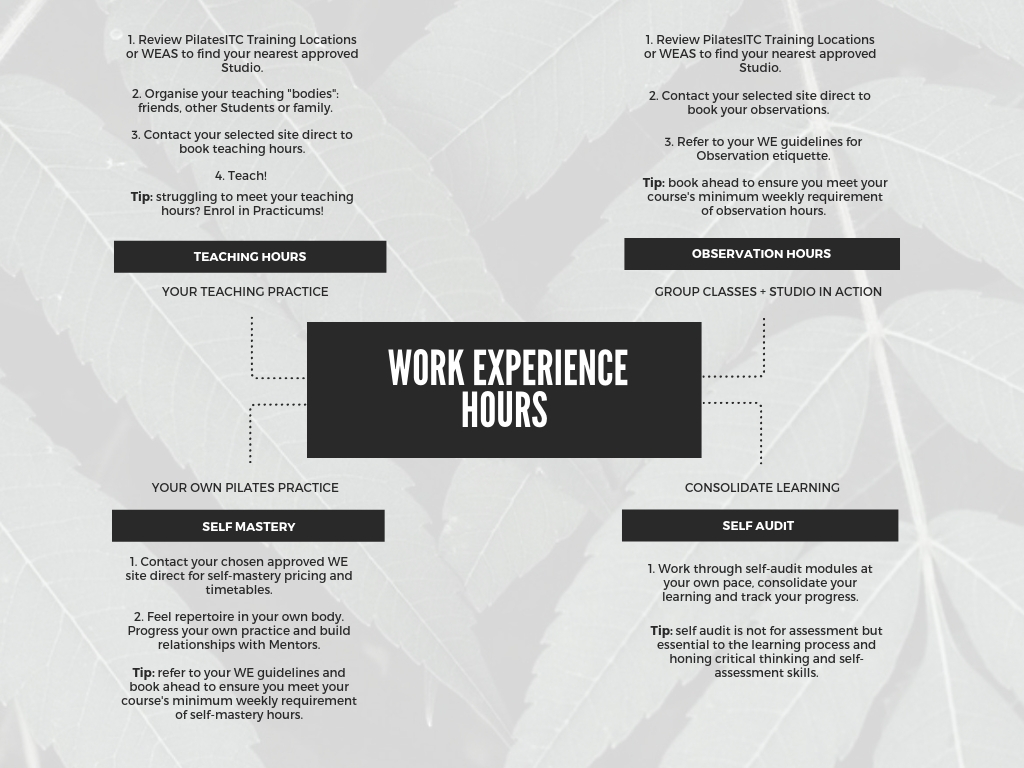 WESTERN AUSTRALIA – Training Location
MYAREE HQ
9a/248 Leach Highway
Myaree, Western Australia
WESTERN AUSTRALIA – Work Experience Affiliated Studios
AUSTRALIAN CAPITAL TERRITORY / NEW SOUTH WALES – Training Locations
14 Macquarie Street
Barton, Australia Capital Territory

34 Clovely Road
Randwick, New South Wales
ACT/NSW – Work Experience Affiliated Studios
QUEENSLAND – Training Location
*

BRISBANE

Level 2/45 Adelaide Street
Brisbane, Queensland
QUEENSLAND – Work Experience Affiliated Studios
TASMANIA – Training Location
17 Gladstone Street
Salamanca, Tasmania
TASMANIA – Work Experience Affiliated Studios
273 Davey Street
South Hobart, Tasmania